Product Introduction: Weider in Jelly Energy In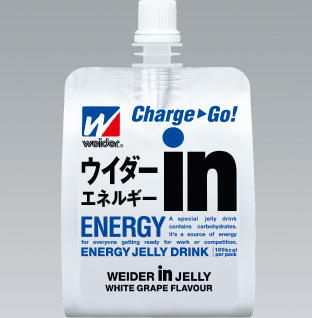 Energy replenishment
(the energy of approximately two bananas)
Product features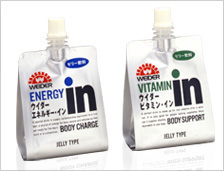 Carbohydrates are a nutrient and source of energy. Typical examples include rice or bread, which contain a high percentage of saccharides.
Composition
Types
Properties
Monosaccharide
Examples include fructose and glucose.
Quickly digested and absorbed.
Oligosaccharide
Examples include dextrin and oligosaccharides. Not as sweet as sugar with a texture lighter than that of starch making it easier to drink.
Moderately quick digestion
and absorption.
Polysaccharide
Typical examples include rice, bread,
and noodles.
Absorbed slowly,
providing long lasting hunger satisfaction.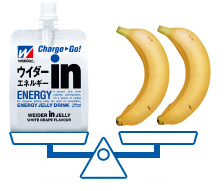 Dextrin makes up the majority of the nutrients in Weider in Jelly Energy In. Dextrin is digested and absorbed quicker than the starches found in rice or bread, making the drink perfect for sports. One pouch provides the energy equivalent of two bananas (180 kcal) and is perfect for quick energy replenishment before physical exercise or quick nutrient replenishment to substitute meals when you are too busy. Additionally, the drink is fat-free so you can enjoy a guilt-free supper or snack.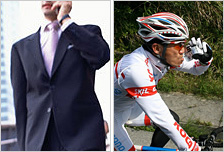 Before and after sports. When you need energy replenishment.
When working overtime and you are fatigued at work. Between meals.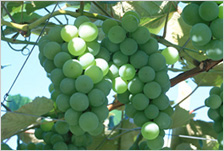 Serving size: 180g Servings per package: 1
Energy
180kca
- Sugars
13.9g
Vitamin B12
0.20μg
Protein
0g
Sodium
41mg
Niacin
1.0mg
Total fat
0g
Cholesterol
0mg
Pantothenic acid
0.46mg
- Saturated fat
0g
Vitamin B1
0.09mg
Folic acid
18μg
- Trans fat
0g
Vitamin B2
0.11mg
Vitamin C
80mg
Carbohydrates
45.0g
Vitamin B6
0.09mg
Vitamin E
0.74mg

Dextrin, High fructose corn syrup, White grape juice, Acidity regulators(Calcium lactate, Citric acid, Sodium citrate), Gelling agents(Gellan gum, Potassium chloride, Xanthan gum, Glucomannan), Vitamin C, Flavour and flavouring, Emulsifier(Sucrose esters of fatty acids), Calcium pantothenate, Niacin, Vitamin E, Vitamin B1, Vitamin B2, Vitamin B6, Vitamin A, Folic acid, Vitamin D, Vitamin B12